Purely for the purposes of showing off, here are some reviews we have received over the years…..
Jan Moir, Are You Ready To Order, 2013
The Crooked Billet, Oxfordshire
Kate Winslet is not happy. Shortly after telling Vanity Fair magazine that she still feels like the 'fat kid', the actress has attacked suggestions that her body was airbrushed to improve her shape for a glamorous cover shot for the magazine. No! Yes! Kate is furious at claims that her body has been airbrushed.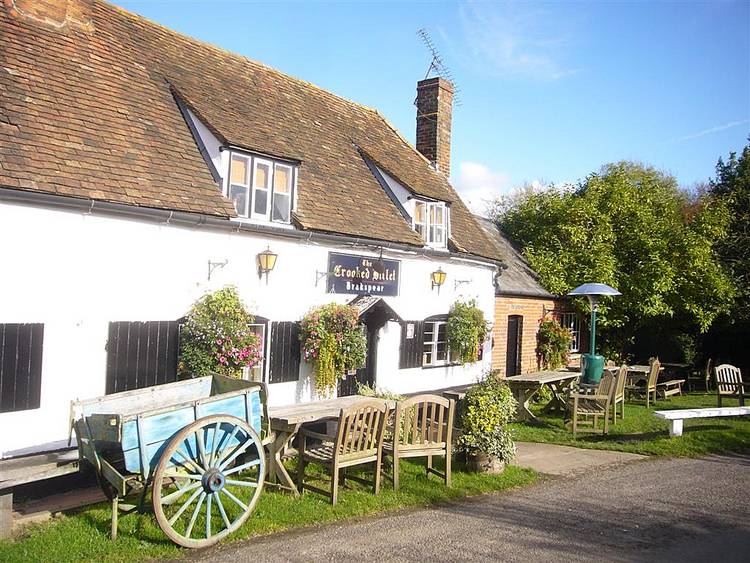 The only tweaks, she insists, were the usual adjustments in skin shades for glamour shots. Can there really be a skin shade called Flawless Silvery Peach? I've only ever seen that before when holding a scallop up to a cloche on a brilliant spring day at the Waterside Inn last year.
I digress. But only slightly. For Winslet's eternal attempts to promote herself as just one of the girls have a bearing on this week's review. When she married her first husband, the happy couple held their sausage and mash reception here, at The Crooked Billet. This intriguing place buried deep in a fold of the Oxfordshire countryside was in sharp contrast to the usual prinked Hollywood nuptials; Winslet's decision, I must say, showed common sense and good taste.
For the Crooked Billet is quite wonderful. Unique, really. It will never win a Michelin star – too ramshackle! – but devoted regulars understand the warm atmosphere, good food and sense of contentment that only a well-run establishment such as this can provide.
You will find it at the end of a muddy road. The building itself is long and low, with tubs of flowers by the windows and a spruce, well-tended air. A sign on the front door says: 'Wanted. Your Home Grown and Local Produce. Swap For Lunch?'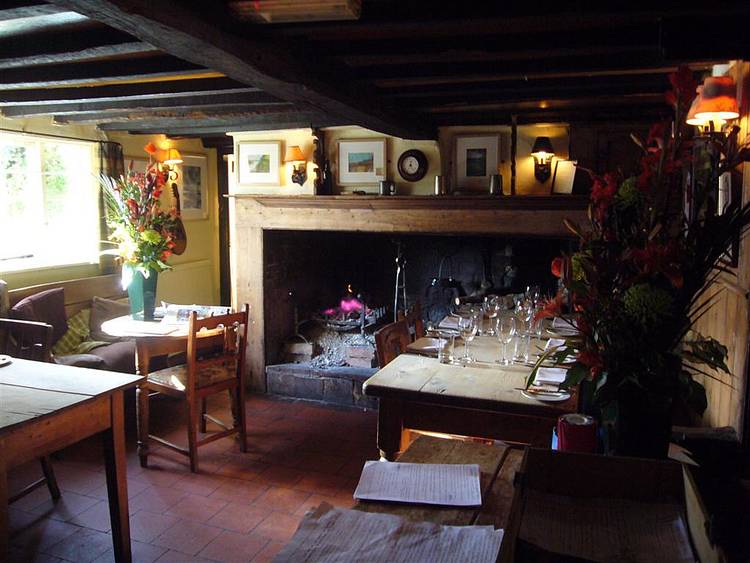 Inside, the restaurant – not posh, but not a gastropub either – sprawls across several rooms of what was once an old country pub. You want history with your pan-fried rabbit , seared duck hearts, roast pumpkin and squash with confit garlic? You got it.
The Crooked Billet was built in 1642, a time when Charles I was still on the throne, the Civil War was raging all around and fifteen miles away, Reading was under siege. Later, the pub would provide a hideout for highwayman Dick Turpin, who then dated the landlady's daughter, Bess. However, the most significant moment in the Crooked Billet's history was the arrival of self-taught chef and proprietor Paul Clerehugh in 1989. One of those cooks who cares about everything, from the provenance of the flour to the happy factor of the black faced mutton sourced from local farms, it is Clerehugh – not Turpin – who has really put this establishment on the map.
The award winning Sunday lunches are deservedly popular, Saturdays are heaving, but those wishing rustic peace beside a log fire could do worse than sneak a weekday lunch here on a day off. As suitable for romantic trysts as it is for family get-togethers, the Billet is the kind of place that happily accommodates all-comers. Six of us arrive on a brilliant autumn Monday lunchtime and happily hunker down beside the crackling fire in a candlelit nook. The charming wooden interior can barely have been touched since Bess manned the barrels. There are racks of bottles, yellowing books and plain tables, some with cloths and some without.
Service is charming and the menu breaks every rule in the book. It is massive, with sixteen starters and fourteen main courses. The spicing and influences swoop from continent to coast around the globe, without even a blush. Yet everything works because the kitchen takes care with every dish.
Anyone for fun, happy food?
Our table is paved with a selection of starters; salt and pepper squid with a searing chilli jam; perfectly cooked slices of sesame seared tuna loin, served with some puckery pickled vegetables and a crisp won ton. Crispy duck salad is a terrific lunch option if it is done properly, as it is here. The biggest hits are the crispy scallops with mushy pea puree and the tremendous aubergine olive & garlic polenta cake. The only disappointment is the smooth foie gras & chicken liver parfait. It would have taken a better food inspector than me to detect any foie gras , This is fun, happy food served with elan, by a waitress who really makes our day. From the perfectly laid table, to the wines delivered instantly, she is the essence of good service.
For main courses we have roast halibut; it is okay, but has a soft texture (suggesting farmed fish) and has an open grain (suggesting frozen fish). In a land-locked pub on a Monday afternoon, is it right to expect anything else? Never mind, for there are consolations aplenty. These include a big dish of local Old Spot pork chop served with celeriac fondant, a Calvados baked apple, parsley carrots and a cornichion and shallot sauce. S loves his Black Face mutton from the chef's own farm; a big hunk of shoulder cooked long and slow, then spiced up with a drizzle of harissa sauce and served with a stack of chargrilled peppers and courgettes and some fluffy cous cous flecked with herbs. The Aberdeen Angus sirloin is a good size and of quite deep flavour, nicely served with a side of mushrooms and tomato. Two portions of gratin Dauphinois disappear like snow in a heatwave. Other main dishes include pink carved roebuck deer, slow roast duck and a baked parmigiano. Portions are generous. Meat dishes seem a better bet than the fish ones. Desserts focus on family favourites; lots of ice creams, meringues and fruit sauces; perfect.
You can still get a good pint of organic Brakspear's bitter here at a decent price of £3. A well made Macon Lugny (Montvallon E Loran En Fils) 2006 burgundy white is 24.50.
Any profits the restaurant makes from their sale of bread and olives go towards the meals they provide for the village primary school. Add this to the plea for local farmers for their surplus goods and you see how a restaurant can be good, do good and remain the beating heart of a community. Instead of being merely a cynical vehicle for a celebrity chef to become a brand. It is a honour and a pleasure to eat here!
Round and About, 2012
The idea of wanting to make people happy may seem un-chef like, but reveals a shrewdness. Yes, you'll experience the theatre of dining out and you will no doubt come across flavours and tastes that you won't have tried before but there is a confidence that whatever you select from the menu, it will be delicious. The menu changes regularly, depending on the time of the year and the quality of produce available. The 'swap for lunch' scheme which Paul absolutely loves has been running for a number years and offers you the chance to swap your surplus home grown produce for tokens towards you're meal. If you are interested, ask for details the next time you are passing, but remember the more curious your produce the more you'll get in return!
From his own current menu, Paul's favourite starter is the crispy fried ham hock in local Loddon beer batter. The ham hock is slowly cooked so that it is perfectly tender, then lightly fried in the batter – simple wheat flour combined with local beer is all that is used. Served with a pea shoot salad, apple relish and truffle dressing, this dish has that X factor – bags of flavour and it looks
amazing. A simple traditional dish that has effectively been 'cheffed' up, but with a bit of intelligent cooking delivers great results.
Whilst in season Paul is a huge fan of Game, to the extent he is frustrated it's not used enough.
"Rabbit and pheasant a joy to cook and to eat. They are both versatile yet underused meats and in the hands of an expert chef, can become something really special". However, if it were his last supper it could only be fish and chips! The batter is so important. Just flour, beer and a touch of egg. The (almost) tempura crispiness is finely balanced with just a hint of acid through an essential splash of Sarsons vinegar. Haddock rather than cod is the fish of choice and the chips are of course perfectly cooked – crispy on the outside, light and fluffy inside. For dessert, Paul bucks the trend and chooses the custard tart in fact he'll go for anything with custard. Light pastry and a fresh home-made custard – it sounds like comfort food and it is, but again using the best ingredients and intelligently cooked. When you visit the Crooked Billet, you will be charmed by the place, by the staff and made extremely happy by the most delicious food.
Look out for their £12 lunch menu during February.
To book (essential) call 01491 681048, AW
Matthew Norman, The Telegraph, 2010
Observer Food Monthly Awards, 2011
The Crooked Billet wins Best Sunday Lunch in The Observer Food Monthly Awards in association with Waitrose.
"You might have to negotiate your way through a web of slight country roads, perhaps a little woozy from the night before, but since the Sunday lunch served here is the best, it will be worth the effort. Just try their roast pork, it's meltingly soft. 'The Billet deserves its award,' says Antony Worrall Thompson, a local and a regular, 'I do like my hearty, country food, that's what they do well here.' The pub was built in 1642, and it remains 'unmodernised': the beer comes from casks straight from the cellar as a bar was never built. And it's got history: it provided a hideout for highwayman Dick Turpin, who went out with the landlady's daughter, Bess. It wasn't until self-taught chef and proprietor Paul Clerehugh took over in 1990, that the pub started turning out exceptional food and pulling in the celebrities, including Paul Weller, Sir John Mortimer and Kate Winslet held wedding reception number one here. As the name suggests, the place is a little wonky. If you're over six foot you'll have to stoop, and a Michelin inspector said it would never get Michelin status because, 'the chairs look like they cost £2.50'. It's not flash, most of the food is simple, but there are exceptions like the Sevruga caviar and salmon tartare blinis (£25)."
The Sunday Times, 2010
Rachel de Thample, 2011
Scene Scania, 2009
Restaurant Spy, 2009
"On the door of the Crooked Billet is a sign which I have never seen before and hope very much that I will see again elsewhere – 'local produce swap for lunch'. So they really do serve local produce on their menu. The local producers would get a good deal, too, because the food here is, not surprisingly, excellent. The Crooked Billet can't do much passing trade because it is buried deep in the Oxfordshire countryside and is the sort of place you need to know about to go to. You also need to book.
The restaurant is set in several rooms of a traditional convoluted country pub. This was the first ever gastropub (pre-dating the London ones by a couple of years) and is run by a man called Paul who used to be a rock musician and is now a self-taught chef. He runs a farm on the side to provide some of the produce. The restaurant has won numerous awards and was catapulted into fame by hosting Kate Winslet's wedding reception. The building is early 16th century and Dick Turpin's girlfriend lived there. I think. It has lots of real wood fires (not those fake gas things) racks and racks of bottles, some barrels, shelves of books and interesting old art on the walls. There is no bar. Pubs originally did not have bars and the drinks were served straight from the barrel or bottle. The bar thing never caught on here.
Tables are wooden, some with clothes, some not. There were two menus when we went, the big posh one and the set lunch – three courses for £22 – which we decided to go for. Starters included lentil soup, sauté squid, fried herring roes, cheese soufflé and onion tartlet. I had soufflé, she had squid and they were both excellent. We then both went for the roast beef (sirloin of local beef. I wonder how many lunches that bought?) which was the best I have had for as long as I can remember. They got the Yorkshire pudding right, too, which is probably harder. There was also grilled salmon, fish pie, lemon chicken, polenta cake and Irish stew, using Paul's farm's mutton. Portions were generous. Desserts looked excellent too (clotted cream lemon mousse being particularly interesting) but we didn't have room and had coffee instead.
If you want to go for the regular menu starters average at about £7, highlights being Arbroath Smokie pot, lambs' kidneys and black pudding, partridge with mustard sauce and ham hock terrine. Mains come in at around £17 – seabass, Old Spot pork, Barbary duck and shoulder of local mutton among them, with pink carved venison fillet and McSweens haggis beckoning us back. To drink we had the house red and it was excellent too. They have a large eclectic wine list, which also runs to some local stuff, including the wonderful sounding Bozedown Millenium Path Hill red. Service is first rate.
Bring anyone you want here – it'll do for romantic trysts, family celebrations and Sunday-lunches-in-the-country, you'll get Brownie points for knowing about it and you can go for a tramp in the woods before you leave."